SNCCC Frontpage
---
SNCCC - Originally established in 1904, South Norfolk Congregational Christian Church (SNCCC) has been serving the Lord in the Hampton Roads area for over 100 years. Our ministry is captured in three simple words that guide our Church - Knowing, Growing, and Going.
---

Knowing - We know Christ as our personal Savior and desire to know Christ more intimately through worship and praise. If you want to better understand this, visit our summary of Romans' Road.

Growing - We seek to build one another up in love through prayer, fellowship and training - growing in our personal walk in Christ. Join Us for Fellowship and Teaching.

Going - We intend for each of our members to make the Lord known through discipleship, evangelism, ministry, and service to our community. Join Us in Service to Christ.
| | | |
| --- | --- | --- |
| Roman's Road | | |

Our greatest concern and mission at SNCCC is spreading the Gospel of Jesus Christ, and the salvation that comes from and through him. The Apostle Paul, in his letter to the Romans, provided a beautiful summary of the path to salvation.


Please Take a Moment to Read More...

| | | |
| --- | --- | --- |
| Prison Ministry | | |

SNCCC exists, according to the Word of God, as an institution and an organization dedicated to evangelizing the unbeliever and edification of the believer - worldwide. One area of this task largely unmet is to support Christians in long-term incarceration. To this end, we have established a...

| | |
| --- | --- |
| More About Us | |

You may be wondering, "What is a Congregational Church?" Basically, it's one of the original forms of independent or non-denominational churches in America. So "Congregational" really describes our church government more than our theology.

Read More - Mission, Vision, and Doctrine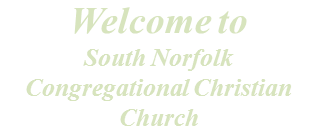 1030 Jackson Avenue
Chesapeake, Virginia 23324
757-545-0383
Weather Report

Chesapeake / 43 °F
Web Links